While we are only a small parish in Western New York, we are part of the broader Russian Orthodox Church, the largest Orthodox body in the world. We are also part of the global Eastern Orthodox Church which includes national churches in traditionally Orthodox countries like Russia, Greece, Romania, Serbia, Cyprus, and the Middle East, but has also spread throughout all the world. There are over 250 million Eastern Orthodox Christians in the world today and over 1 million in the United States.
While many of our congregants were brought up in the Orthodox Church, many have journeyed to Orthodoxy either from other Christian faith traditions or from non-Christian spiritual traditions. Whether you are "on a journey" or just want to visit a local Orthodox church, you will be welcome at Sts Theodore. We are always happy to have others join us for prayer to and worship of the One God, the Father, the Son and the Holy Spirit.
We hope you will find our site informative and edifying. We invite you to join us for one of our liturgical services which preserve the worshipping tradition of apostolic Christianity and grant those who participate in them an experience of heaven on earth. We have an All-Night Vigil service every Saturday at 5:00 p.m. and Divine Liturgy every Sunday morning beginning at 9:00 a.m. Lunch is served after Liturgy and all are welcome.
We looking forward to meeting you. May the Lord bless you.
Current Bulletin
First Sunday after Pentecost
Sunday of All Saints

May 21/June 3, 2018
Click Here to View/Download This Week's Bulletin
.
Read about the Sunday of All Saints: click here
Listen to a Sermon about the Sunday of All Saints: click here
Upcoming Services
Wednesday, 7 / 20 June
7:00AM Midnight Office and Typika
6:00PM All-Night Vigil

Thursday, 8 / 21 June
St. Theodore Stratelates
8:00AM Hours and Divine Liturgy
6:00PM Festal Potluck Meal

Saturday, 10 / 23 June
4:00PM Confession
5:00PM All-Night Vigil

Sunday, 11 / 24 June
9:00AM Hours and Divine Liturgy

Upcoming Events
Feast of Holy Great Martyr. Theodore Stratelates
Our parish will celebrate its major patronal feast with the Commemoration of the Transfer of the Relics of our heavenly protector and intercessor, the Holy Great Martyr Theodore Stratelates. The feast is celebrated on Thursday, June 21 (June 8 o.s.). The Vigil serice will begin on the eve of the feast, Wednesday, at 6:00 pm. The Divine Liturgy will be served on the morning of the feast at 8:00 am. We will gather again in the evening of the feast for our festal potluck meal at 6:00 pm on Thursday. Wine and oil are permitted on the day of the feast, but remember to make dishes with no meat, dairy, eggs or fish for the meal.
You can read a brief life of the saint online: click here.
You can listen to a sermon about the lives of our patron saints: click here.
Hierarchal Visit
Metropolitan Jonah will be visiting our parish and will be present at the divine services on Saturday, June 16, and Sunday, June 17. There will be a reception in the Parish Hall following the Divine Liturgy on Sunday. Please mark your calendars and plan to attend.
You can check out the YouTube playlists from the St. John Cathedral in Washington, D.C. for links to a number of spiritual talks and lectures Vladyka has delivered over the past few years: click here.
Fast of the Holy Apostles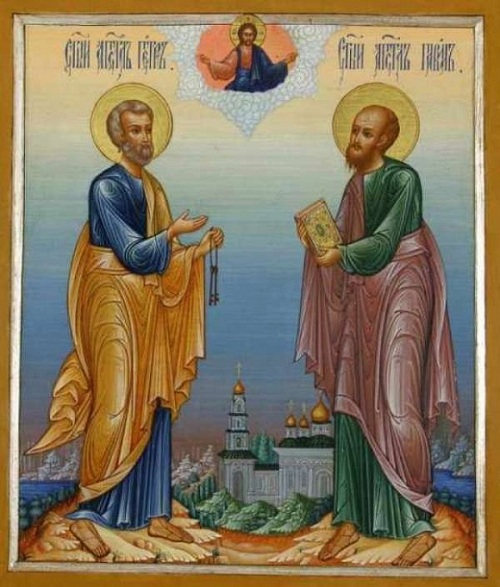 The Fast of the Holy Apostles begins on Monday, June 4 (May 22 o.s.) and extends until the day before the Feast of the Holy Apostles Peter and Paul on July 12 (June 29 o.s.). This, the first fast of the Summer months, helps us as we struggle to work out our salvation and to follow in the footsteps of the Holy Apostles as they spread the gospel of the Risen Christ to every corner of the world. This fast is not as strict as the Lenten and Dormition Fasts, so check your calendars to know when there is katalysis (relaxation) of the fasting guidelines to allow for wine and oil or even fish.
You can read some edifying articles about this fasting period online: click here.
Lord! How characteristic it is of human beings to attract and assimilate images, to settle into them and reside in them—whilst for them, as being made in Thine image, it should be natural to strive with all love and zeal towards the First Image, and cleave to Him. But this greedy, pleasure-loving, flabby, and sluggish flesh of ours pulls us away from Thee. We need fasting and temperance, but we are passionate for pleasures. Strengthen us for abstinence!
St. John of Kronstadt
Weekly Akathist
This week, we will serve the Akathist and a brief Moleben to Sts. Constantine and Helena the Equal-to-the-Apostles. The service will begin on Wednesday evening at 6:00 pm. All are welcome!
Cleaning Day
We will also have two pre-Hierarchal cleanup days at the Church. First, on Saturday, June 9, from 9:00 am – noon, we will be working on cleaning upstairs in the Church temple. We will also be doing some work on the landscaping around the Church. Lunch will be provided by the Sisterhood.
Also, on Monday, June 11, from 9:00 am - noon, there will be a cleaning day, to tackle the Trapeza/Parish Hall and downstairs of the Church.
If you are able to help on either or both of these days, please do. May God bless your efforts on behalf of the Church.
Check Out Our YouTube Channel
That's right! Saints Theodore now has its own YouTube channel (click here). You can listen to lectures from our Sts. Peter and Febronia Marriage and Family Life Retreat, check out classes that have been offered at the parish, or catch up on a sermon you might have missed. More content is being added all the time, so make sure you subscribe to get email reminders when new videos are added.